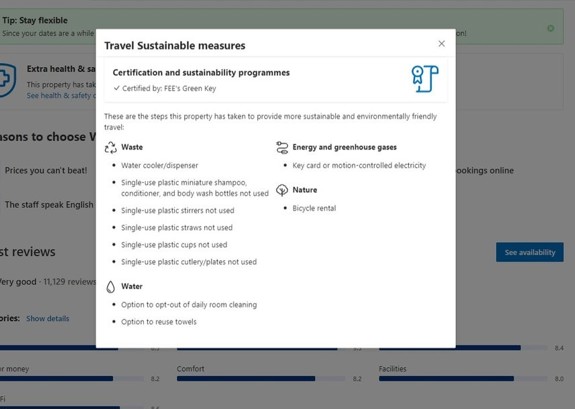 Booking.com reveals new travel trends in Sustainable Report
The international booking platform report compiles information from 30,000 travellers from 32 different countries and territories and analyses travellers' behaviour and expectations with regard to sustainability.
For the 7th consecutive year, Booking.com inquired thousands of its users about their travel choices. The results show an increasing interest in sustainability around the globe, at environmental, social, economic, and cultural levels.
According to the Sustainable Travel Report 2022, half of the global travellers admit that the alarming news on climate change has influenced them to pursue more sustainable choices when travelling. Almost half of the travellers inquired (46%) chose at least one sustainable accommodation during their travels last year. The main reasons for this choice were a willingness to reduce the impact on the environment, wanting to have a locally relevant experience and supporting sustainable accommodations that treat the community better.
The Booking.com report suggests that the demand for sustainable accommodations can grow soon, with 78% of respondents showing their intention of staying at a sustainable property throughout this year.
Despite the significant positive numbers, the Sustainable Travel Report 2022 of Booking.com also shows that there is still a large portion of travellers that hesitate to travel more sustainably, with the biggest reason being: not knowing that sustainable properties were an option (31%) and not knowing where to search for them (29%).
The report also shows that 54% of travellers want to filter their options when booking accommodation to select those with a sustainable certification.
In recent years, Booking.com has created a "Travel Sustainable Properties" filter to help travellers find certified accommodations. To know if an establishment is for example Green Key certified on Booking.com, you can use the filter, and then click on the property that you are interested in. Under the pricing list, you will find the "Travel Sustainable Property" information that the establishment is taking significant steps towards sustainability. Finally, by clicking "read more", it is possible to confirm whether the accommodation is certified with FEE's Green Key.
To read the full Booking.com report, click here.